Barbara Evripidou is a freelance photographer and owner of First Avenue Photography, with over 30 years of experience in corporate and PR photography. Like many businesses, the lockdown restrictions over the past two years affected Barbara's day to day operations and limited opportunities to find new clients and promote her work. In March 2021, Barbara enrolled onto the fully funded North & East Bristol Enterprise Support (NEBES) programme, and accessed 1:1 mentoring support on business resilience and growth.
"My business was hit quite hard during COVID and the lockdowns. The team at NEBES are always happy to talk and go through business ideas and issues that come up. Every member of the team I have liaised with is knowledgeable, supportive and no question is too trivial. They have been invaluable to my business," stated Barbara.
During the 1:1 support, Barbara outlined that purchasing more equipment would allow her to grow her client base and increase business opportunities, but she needed access to funding to start buying the equipment. At this point, Barbara's Advisor told her about the 33% Cashback Grant from NEBES, which is available for start-ups and SMEs who are looking for funding to buy equipment, build websites, design branding, marketing, implement new technologies, attend events and much more.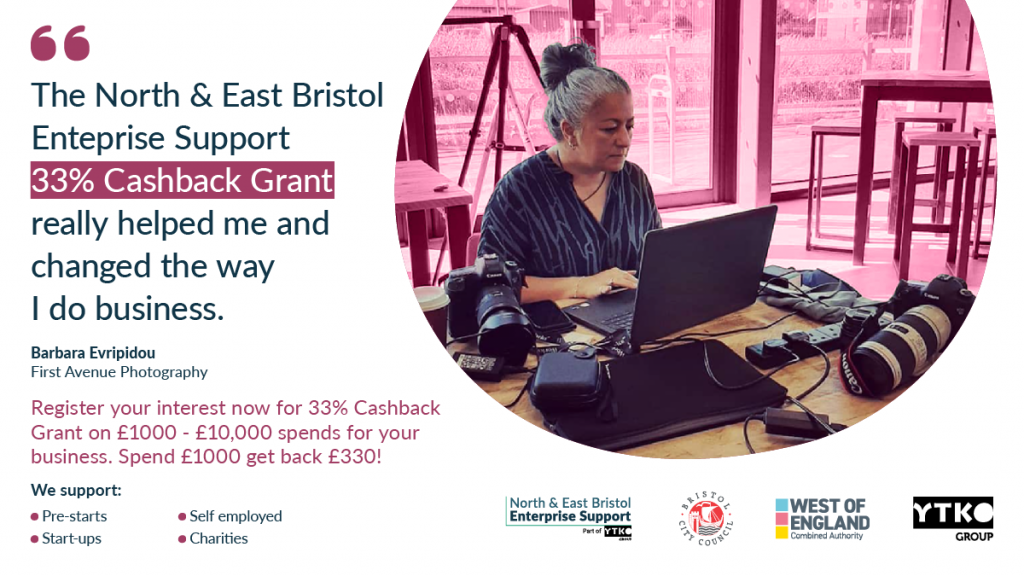 To start the simple application process, Barbara just needed to outline the equipment she needed to buy and confirm that she was able to afford 100% of the costs up front, before receiving 33% of those costs back in cash after she had submitted proof of purchase to the NEBES team. During the short application process, Barbara had full access to free business support in marketing, business planning and finance to help her plan how the new equipment would help her to access new types of clients.
Once the grant was approved, Barbara was able to purchase her equipment and start booking in more work with the relief of the cashback grant to cover other business costs.
"The 33% Cashback Grant really helped me and changed the way I do business. It's quite a big gift to be given a grant and I wanted to make sure I was making the most of it. Now that I'm back on track I can give people a great service" Barbara said.
The 33% Cashback Grant is available for any pre-start, start-up or existing business that is located in North, East or central Bristol across all industries from creative, to food and technology. If you're looking to start or grow a business with a new website, recruitment, events, membership, or any costs associated with growing your business, get in touch with us today to find out more and start the easy application process at nebes@ytko.com, call 0800 456 1311, or start your application now with our online form.
The deadline to express your interest and start your application for the first round of funding is 30 June.
North and East Bristol Enterprise Support is fully-funded by Bristol City Council and the West of England Combined Authority. Fully-funded business training and support is available across all industries and for people with an idea for a business, charity, social enterprise, freelancers and existing businesses looking to pivot or grow.