Having studied graphic design at university, Michael Hawkins co-founded a design agency which he ran successfully for ten years. A passion for food gradually became more of an obsession as he taught himself to cure and smoke foods which then progressed into pasta making during the national lockdowns. 
A cancelled trip to Greece, due to the COVID-19 restrictions prompted Michael to try to create the tastes of a sun-drenched holiday in his kitchen. It was this which gave him the inspiration for GO! Pesto, a new business start-up idea for "pesto sauces for intrepid eaters."
Although I love traditional basil pesto, my idea was to develop a range of pesto sauces inspired by world cuisines, using high quality ingredients to deliver an authentic dining experience for discerning, time-strapped foodies," explained Michael. "I had realised that my heart wasn't in design anymore and was really excited by the potential opportunities of developing recipes to offer people a virtual passport evoking the smells and flavours of their favourite overseas destinations.
Michael was introduced to South Bristol Enterprise Support (SBES) through the West of England Growth Hub and found the one-to-one sessions with Sally really helpful.
She was so easy to get on with and she brought a wealth of knowledge as a small business owner herself. She helped me to take my stream of random ideas and help to focus on the priorities to get the business up and running by making the tasks more manageable.


I'm keen to present customers with recipes for using my sauces which show pesto in a different light – not just as a sauce for pasta. There are so many ways to use them such as marinades, stuffings and toppings which I show on the GO! Pesto Instagram page – this has been a great way to build interest in my products alongside the pesto blog on my website.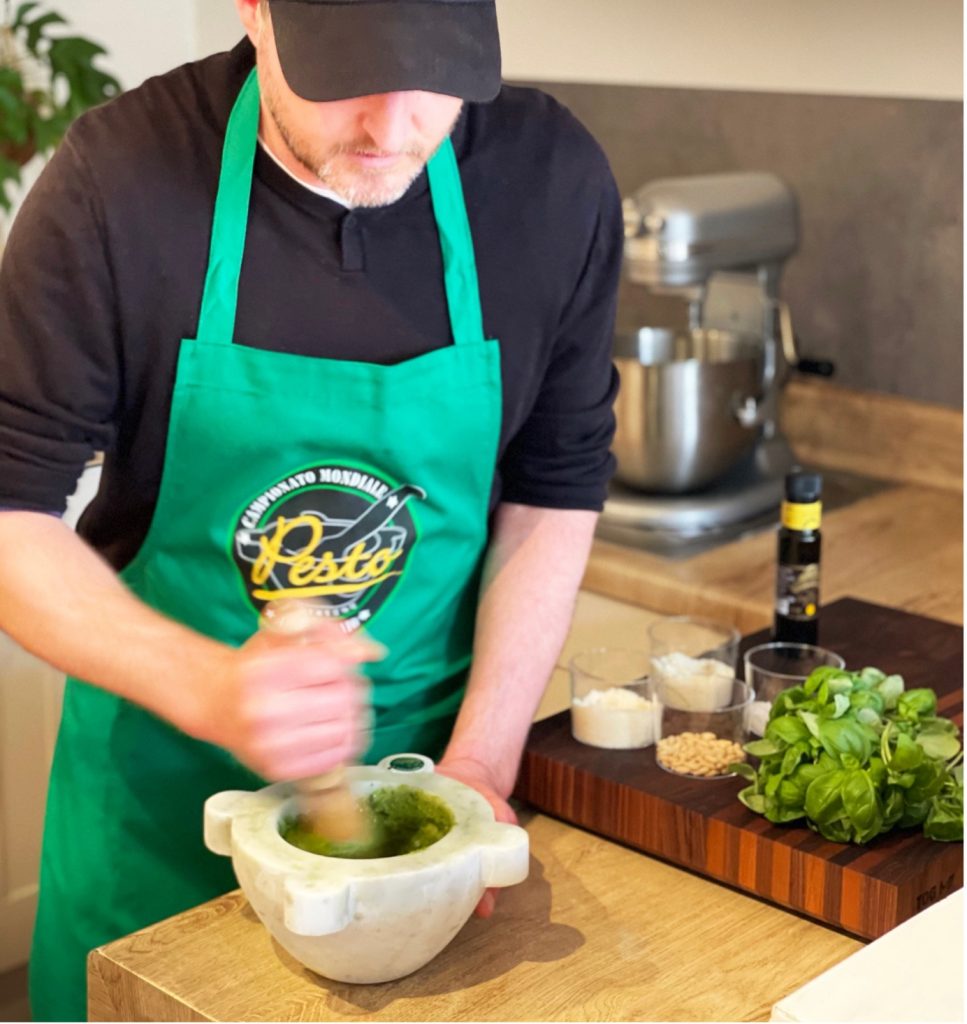 Michael encourages people to sign up for his newsletter which gives recipe ideas, and this has also been key in developing a customer base. He is now searching for a manufacturer for his first three pesto sauce recipes which has proven to be tricky due to the high number of entrepreneurs who started businesses during lockdown like him, as well as restrictions around allergies.
Sally helped me to identify my key customer personas which I keep in mind when developing new sauce ideas which appealed to my creative mind. She was quite strict, and I had homework after each session, but this helped me to move forward with my business plans.
One thing which Michael has been surprised and delighted by is the sense of community within the food industry, especially for start-ups with Facebook groups and networks to help meet new contacts.
It can be quite isolating when you start-up a business, so this support is fantastic.
Michael plans to sell direct to his customers and his background in design is proving helpful in creating his marketing collateral including his website.
Some of the most challenging aspects of starting a food business are around the health and safety regulations and making sure that the product is produced in a way which is safe for people to eat but still provides the taste and flavour of the ingredients.

It has been harder than I anticipated but with the support of SBES and the food community around Bristol, I am really excited to see the number of visits to my website and newsletter subscriptions increase each day.
Find out more on the GO! Pesto website or follow on Facebook, Twitter and Instagram.