Originally from Wolverhampton, Jamie moved to Bristol where he was employed by a company carrying out work at South Bristol Community Hospital. The impact of the economic crash of 2007/08 prompted him to rethink his career and after discussion with his wife, he decided that he wanted to make moves towards being his own boss.
A call from a friend, who ran Plumb Bristol, provided an opportunity to work together, along with an electrician, carrying out bathroom installations for B&Q, which meant regular work. This plan evolved into a limited company called Bristol Tradesmen Ltd.
This business continued for three and half years and alongside it, Jamie was regularly carrying out additional plastering jobs, which gradually increased to the point that he needed to find someone to train so that they could assist with the work. His friend Ashley took on this challenge with another friend Nick, acting as silent partner in the business and providing help with the financial side and website.
By this point, Jamie had started a family and was starting to evaluate the hours that he was working against earnings in this arrangement. He looked at the figures and soon realised that he could earn more and work less hours if he set up his own business, which he did, and Plaster Bristol was born. This was three and a half years ago, and he has been inundated with work requests ever since, but towards the end of this period, he once again reached the stage where he needs a labourer to help him on jobs.
Justin, best man at Jamie's wedding started to help as he had been made redundant from a corporate role which he disliked. However, a more permanent solution arrived in the form of Miles, who originally phoned him from Wales, after having Googled plastering businesses in Bristol, where he was intending to move in six months' time.
It was then that COVID-19 forced many companies to cease working during the national lockdown, which for Jamie meant three months with no work. However, all the clients that he had booked for this period agreed to move to new dates and once lockdown was lifted, Jamie was back at work and busier than ever. "My customers were great during this period and this loyalty meant that I had work as soon as I started back," stated Jamie. "At this time there was a plaster shortage, and it was one of my customers who personally arranged for the building merchant located nearby to sell all of his stock to us – this meant that we had enough for four jobs which was fantastic!"
It was a friend who had designed Jamie's website that made Jamie aware of the business support available from GetSet for Growth in the Bristol area. He got in touch and participated in 1:1 sessions to help him explore his plans for growing the business and what steps he needed to take in order to achieve them. "One suggestion was to look for an apprentice to train in plasterwork by approaching the local colleges which was a great idea," stated Jamie.
Whilst this search for an apprentice is still ongoing, Jamie has also taken other advice suggested by the GetSet team. "It's a difficult balance," said Jamie, "I'm so busy with work that it can be tricky to find time to implement new ideas for the business but I'm persevering, and I am very grateful for the help and advice that the GetSet team have given me."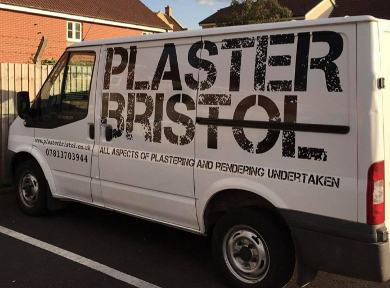 "During lockdown, many families, particularly if one or both of the parents were on furlough, decided to carry out home improvements which has added to the increase in work – but I'm not complaining," commented Jamie.
Jamie's long-term goal for Plaster Bristol is to take a bit of a step back once he has a team in place who can maintain the high standard of work that his business is built on. Most of his work comes from recommendations and his website is full of glowing testimonials of the work he has carried out – something he is rightly very proud of!
GetSet assisted Jamie to explore new ideas and provided a fresh pair of eyes on my business – "I needed a manager to help manage me," stated Jamie, "GetSet helped me with this." The main issue he faces is finding the right staff with the right skills as he has highlighted that the current training provision for young people in the construction industry needs improvement. "We need to better skill our young people as there is plenty of work available to them if they are willing to work hard and develop the skills and knowledge of modern plastering techniques," comments Jamie.
For more information about Plaster Bristol click here or visit him on Facebook or Instagram